Meaningful Memory Care at Meadowthorpe Assisted Living and Memory Care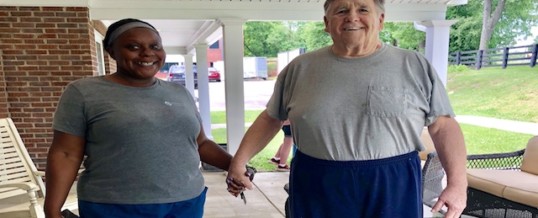 Our Belief System
Complications related to Alzheimer's and various other forms of dementia, such as memory loss and decline of physical abilities, often place family members in the position to seek a higher level of care for their loved one. At Meadowthorpe Assisted Living and Memory Care, we truly understand the various challenges linked to choosing the best long-term option for someone you love dearly. It is quite possibly one of the most difficult decisions you will face in your life as you seek a senior living community you can trust to care for your family member. It is vital to seek a memory care option that ensures resident safety, promotes dignity and quality of life, fosters engagement and socialization, and offers compassionate care in which residents are treated like family.
What We Offer
Meadowthorpe Memory Care utilizes a person-first approach to care which focuses on providing residents with meaning and purpose through a number of activities designed to preserve their sense of self. By focusing on each resident's unique needs, abilities, and preferences our Community ensures each individual enjoys the most appropriate support possible. To bring activities to life, Meadowthorpe Memory Care offers a number of Memory Stations to provide opportunities for productive engagement. Memory Stations are designed to spark memories and encourage interaction.
Meadowthorpe Assisted Living and Memory Care offers that and so much more for our residents and their family members. We are a tight-knit, homelike community where staff, residents, and their family members bond to provide the most loving approach to care that exists. Our memory care community is simply an extension of our highly successful assisted living with a lower care ratio, extensively trained caregivers, and a person-centered approach to activities and socialization based on each resident's strengths and preferences.
What sets apart our memory care community from others?
A few of the most significant factors which set our memory care community apart from others in the industry include:
Low caregiver to resident ratio
Our person-first approach to care is accomplished by staffing one caregiver for every four residents, 24 hours per day.
Thoughtful building design
Small, one-level, and easy to navigate.
Individualized service
Our team evaluates each resident and works collaboratively with their family to create customized service plans to meet the resident's specific needs. These service plans are as individualized as each resident; no two residents have the same service plan.
Person-centered and person-appropriate activities
Activities are designed to provide residents with meaning and purpose to preserve their sense of self. Residents remain engaged in customized activities throughout each day in order to minimize stress and ensure each resident enjoys the most appropriate support possible.
Security for Your Loved One
As cognitive decline occurs, it is imperative to ensure your loved one is safe and secure. Confusion linked with memory loss can encourage wandering behavior, therefore our memory care community is secure and offers a beautiful courtyard with a secure fence for your loved one to safely enjoy the beauty and freedom of the outdoors. Family and staff enter through a secure door with a camera doorbell, allowing staff to closely monitor resident safety, while encouraging family members to be an integral part of their loved one's care. Our memory care provides a 1:4 caregiver to resident ratio, 24 hours per day.
Let the dedicated team here at Meadowthorpe Assisted Living & Memory Care assist your loved one through the ups and downs of the aging process and let us love them like family. Call 859-878-1301 or visit us online at www.meadowthorpe.com.
https://meadowthorpe.com/wp-content/uploads/2020/01/meaningful-memory-care.jpg
218
538
Meadowthorpe
https://meadowthorpe.com/wp-content/uploads/2019/12/meadowthorpe-logo-2.png
Meadowthorpe
2019-08-10 10:22:37
2020-02-07 12:05:02
Meaningful Memory Care at Meadowthorpe Assisted Living and Memory Care