The Importance of Socialization in Aging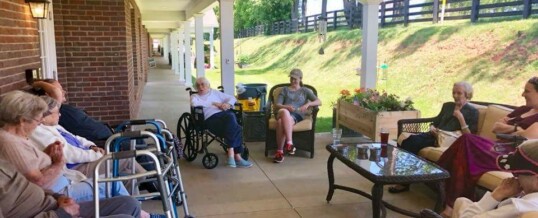 It's not uncommon for people to lose their interest in socialization as they age. The importance of avoiding this loss of interest is crucial in one's health and quality of life. If you're still living at home and have been thinking about your next steps or if you have a loved one that could benefit from more socialization; a thriving assisted living community could be the perfect solution. Meadowthorpe Assisted Living & Memory Care is a family owned community that thrives on encouraging elders to enjoy their last years by actively socializing with their peers and retaining their independence.
A study done by the University of California, Berkeley showed that the rate of cognitive decline was 70 percent less in seniors that have frequent social contact compared to those with low social connection. Placing yourself or your loved one in an environment that can provide you with enjoyable social contact on a day-to-day basis is critical. An assisted living community will not only provide you with social activities throughout the day, but social interactions will naturally take place through meal-times and time spent in common areas.
Socialization can be a scary endeavor, even for those searching for a senior living community. Meadowthorpe Assisted Living takes pride in removing the intimidation out of the moving process and allowing seniors to transition into their new home seamlessly. There are only eight units in each of the five buildings at Meadowthorpe, so the level of intimacy is much higher than other senior living communities. Instead of having meals with a hundred of your favorite strangers, you're coming out to the dining table to have meals with your eight closest friends just a few steps from your apartment.
If you would like to take a tour of the community, participate in an activity, or have a meal with us, please contact us today!
https://meadowthorpe.com/wp-content/uploads/2020/01/socialization-in-aging.jpg
218
538
Meadowthorpe
https://meadowthorpe.com/wp-content/uploads/2019/12/meadowthorpe-logo-2.png
Meadowthorpe
2019-12-05 16:15:05
2020-02-07 12:04:17
The Importance of Socialization in Aging