8 Tips for People Providing Alzheimer's Care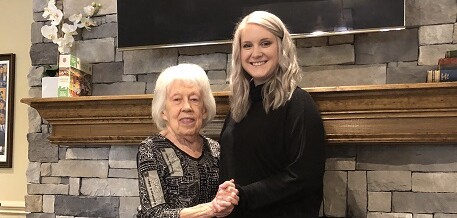 Alzheimer's care is unique and requires specialized approaches to make sure loved ones are comfortable, safe, and content. While you can't cure this disease, you can provide the assistance seniors need to survive and even thrive through their memory issues. Below, Meadowthorpe Assisted Living in Lexington, KY, shares nine tips they recommend to help those providing Alzheimer's care.
A Guide to Alzheimer's Care
1. Keep It Simple
Language often becomes difficult to understand for people with memory issues. Help your loved one by speaking in plain sentences and asking one question at a time to prevent overwhelming them.
2. Follow a Daily Routine
Routine is a major benefit for people with dementia and other cognitive impairments. Those providing Alzheimer's care should help their loved one stick to the same habits every day so they understand what's happening and know what to expect.
3. Focus on Feelings
Seniors may not always be able to express themselves through words. The carer must assess body language and note how a person is feeling by how they're acting. Pay attention to emotions and address them as needed.
4. Take Breaks
Alzheimer's care can be very emotional at times. Carers should take breaks from their duties to decompress even if that means spending a few minutes on their own.5. Use Humor
It's helpful to find the humor in situations where you could despair. Try to use jokes and humor to brighten your loved one's day. Doing so may have the same effect on you.
6. Offer Pacers Some Space
It's not uncommon for people with Alzheimer's disease to pace when they are anxious. Support seniors with this habit by ensuring they're walking in a safe area while wearing comfortable shoes. Provide them with snacks and water so they stay fueled and hydrated.
7. Get Musical
If your loved one enjoys music, let them sing, dance, or simply listen to some. Music is a welcomed distraction in times of Alzheimer's-related confusion. In fact, tunes familiar to your loved one can combat feelings of anxiety and agitation.
8. Ask for Help
Seniors don't want to lose their sense of independence. Help them feel needed by asking for their assistance on tasks they can accomplish. For example, they can set the table for dinner or fold some laundry.
Those providing Alzheimer's care to loved ones may find themselves unable to continue doing so. When this happens, it's necessary to transition seniors to a memory care facility where they will be well taken care of. At Meadowthorpe Assisted Living, they have around-the-clock teams of skilled caregivers. To learn more about their available residences call (859) 878-1300. Visit our website for information on their staff and how they can improve your loved one's quality of life.
If you would like to take a tour of the community, participate in an activity, or have a meal with us, please contact us today!
https://meadowthorpe.com/wp-content/uploads/2020/01/alzheimers-care.jpg
218
457
Meadowthorpe
https://meadowthorpe.com/wp-content/uploads/2019/12/meadowthorpe-logo-2.png
Meadowthorpe
2019-09-10 10:19:20
2020-02-07 12:04:51
8 Tips for People Providing Alzheimer's Care