Benefits of Activities and Socialization at Meadowthorpe Assisted Living & Memory Care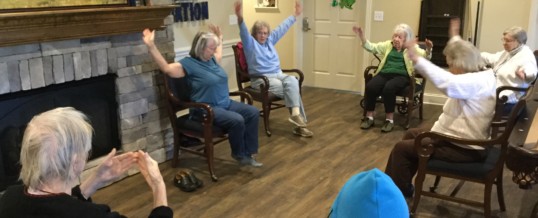 According to research conducted by the Alzheimer's Association, one's ability to maintain cognitive function and brain vitality are closely linked with a combination of physical & mentally stimulating activities along with consuming a brain-healthy diet. This suggests the onset and rapid cognitive decline linked to dementia can be prolonged through socialization, physical activity, and consuming a brain-healthy diet.
At Meadowthorpe Assisted Living and Memory Care, we understand the importance of maintaining a well-balanced life in order to promote healthy aging. Our activities program encompasses a wide array of opportunities for residents to maintain a healthy brain, body, and heart by providing stimulating person-centered activities. We provide opportunities for residents to evolve physically, socially, emotionally, spiritually, and cognitively through a variety of meaningful activities. Community partnerships allow our residents to take part in intergenerational relationships by way of socialization and mentorship. Our exercise program allows residents of all abilities to focus on their physical and mental health through aerobic exercise, Tai Chi, Yoga, and meditation. Our residents also have a variety of 'power' foods to choose from to fuel their aging brain and keep it healthy.
So, what does all of this mean for current and incoming residents who are already facing cognitive decline linked with Alzheimer's Disease? It means it isn't too late to slow the progression by adding a few key components for improved well-being and to foster a positive quality of life. Let Meadowthorpe Assisted Living & Memory Care motivate your loved one to maintain a healthy diet, exercise daily, and share joyful moments with others to ensure their brain is being challenged in every way possible.
If you would like to take a tour of the community, participate in an activity, or have a meal with us, please contact us today!
https://meadowthorpe.com/wp-content/uploads/2020/01/activities-socialization.jpg
218
538
Meadowthorpe
https://meadowthorpe.com/wp-content/uploads/2019/12/meadowthorpe-logo-2.png
Meadowthorpe
2019-06-22 10:26:09
2020-02-07 12:05:25
Benefits of Activities and Socialization at Meadowthorpe Assisted Living & Memory Care