Why Choose Meadowthorpe Assisted Living & Memory Care?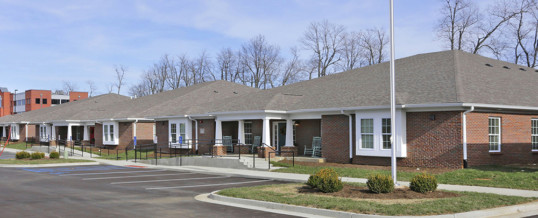 The senior living market of Lexington, Kentucky is undoubtedly one of the most competitive around with new communities popping up left and right. Everyone claims to be the best and offer the most desirable amenities, so how is Meadowthorpe Assisted Living & Memory Care better than all the rest?
The answer boils down to a single umbrella factor – uniqueness. Sure, we (like most communities) offer a beautiful upscale living environment with lovely individual suites, a hair salon, and a fun bar plus game room for socializing; however, our mission is to ensure every resident lives life to their fullest potential based on the "whole person" approach. We strive to ensure our residents are cared for emotionally, physically, intellectually, and socially. Our community provides assistance with the vital components of everyday life, in addition to ensuring our residents experience their golden years in a manner that is meaningful and filled with purpose.
At Meadowthorpe Assisted Living, there is no one-size-fits-all approach. Our passionate staff and caregivers provide specialized assistance and support 24 hours per day at a ratio of six residents per caregiver. The industry average is typically greater than 20 residents per caregiver. What's even more incredible is the data surrounding our caregivers' average response rate to resident notifications…two minutes or less! What does that mean? It means each and every resident is provided with impeccable care based on their identified needs, as well as those which may arise unexpectedly. Simply put, our residents never have to wait for assistance as a result of our superior staffing plan.
Our unique community layout opens the door for mobility and freedom of choice in an assisted living environment. Our community is comprised of five buildings, each of which houses eight private apartments equipped with a kitchenette & dining space, living area, and separate bedroom with a fully accessible bathroom. Additionally, each building contains a full kitchen for anyone who wishes to prepare a meal, shared dining area for congregating with others at meal time, and a living room for relaxing or socializing.
Residents' days are filled with opportunities for continued education, improved health & physical well-being, and socialization. Our activities program is designed by a former educator to ensure residents experience enrichment and engagement at a variety of levels. For example, residents have the opportunity to read and analyze poems & short stories, attend socials of various natures, and spend time reaching out to our local youth through school partnerships. Our fitness program offers Tai Chi, yoga, aerobics, and meditation, all of which can improve one's overall mental and physical health. We value nurturing the mind, body, and spirit of each and every resident.
So why choose Meadowthorpe Assisted Living & Memory Care? The answer is quite simple – because we undoubtedly provide the most personalized care and support throughout the senior living community. With us, you and your loved one(s) will be empowered, inspired, and encouraged to live life to the fullest. We are 21st Century assisted living!
If you would like to take a tour of the community, participate in an activity, or have a meal with us, please contact us today!
https://meadowthorpe.com/wp-content/uploads/2020/01/MeadowthorpeAssisted-001.jpg
218
538
Meadowthorpe
https://meadowthorpe.com/wp-content/uploads/2019/12/meadowthorpe-logo-2.png
Meadowthorpe
2018-04-16 19:41:38
2020-02-07 12:07:08
Why Choose Meadowthorpe Assisted Living & Memory Care?